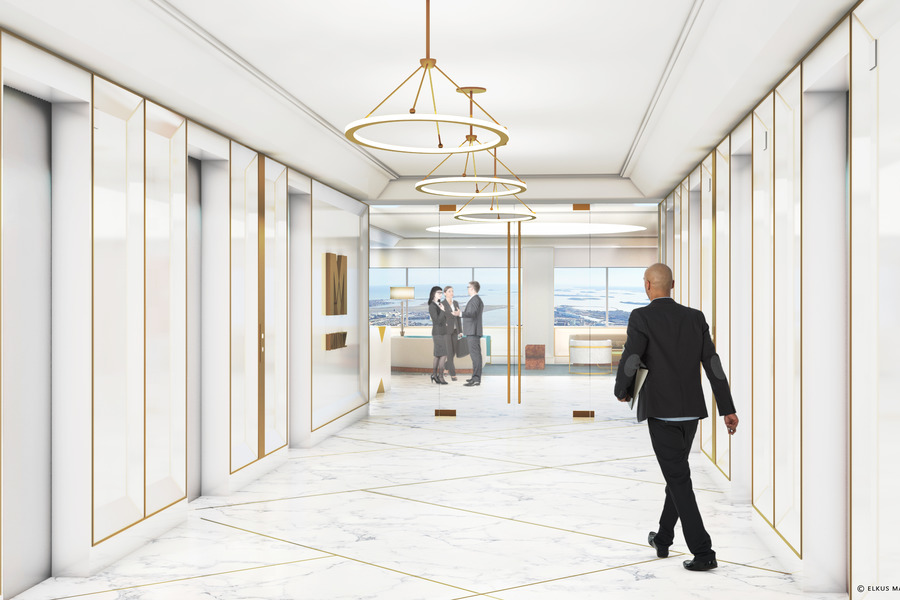 Mintz Levin- One Financial Boston
In the height of the great depression, Benjamin Levin and Haskel Cohn formed a partnership and sublet an office in One Federal street Boston. Fast forward 85 years, the firm is now Mintz, Levin, Cohn, Glovsky and Popeo PC and calls One Financial Center home. The firm occupies 7 floors, 6 contiguous, for a total of 205,626 square feet. In 2017 the firm hired Suffolk Construction and Elkus Manfriedi Architects as the team to fit out 6 of those floors. Millwork One Inc. was asked to provide design assist services for the complex woodwork components and produce multiple in place mockup offices. We were ultimately selected to provide a turnkey architectural woodwork package.
The space holds in excess of 500 custom wood office fronts with custom profiled wood stile and rail doors. Between the office fronts, custom applied wall trims create frames for artwork. Wood and fabric walls with brass accent trim cover the elevator lobby walls. Rift cut white ash credenzas framed in solid ash and topped off with custom ½" back painted glass are included in the 16 conference rooms. Other architectural woodwork items include shaped banquets and gathering benches, intricate cafe casework and a main lobby desk. To complement our turnkey program we included a substantial upholstered wall package. We are proud to be involved in such a tremendous tenant interior millwork project.