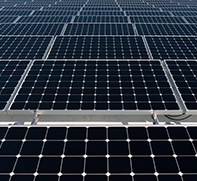 After several years of research and planning, Millwork One is joining the ranks of several other Rhode Island businesses who are doing their part to help preserve the environment by going solar. Installation crews have been working diligently since September to install more than 1,500 solar panels: construction and commissioning was completed in the middle of December.
To prepare for installation, the old roof was removed and replaced. Once that was done, the foundation was set for our solar system. The panels, which are made by Sunpower Corp., are comprised of 146,496 photovoltaic cells (1,526 panels) which will be able to produce over 600,000 kWh of clean, renewable electrical power for the entire building. The system that we are using is a ballasted (non-penetrating) system which is designed to last for more than twenty five years. Each panel is set in place and secured with concrete blocks and set at a fixed angle so that we can maximize the amount of energy taken in based on our location. Having fixed panels also means no moving parts to replace as the system gets older which means less money spent on daily upkeep and maintenance. Each of the panels are connected to a central inverter which will convert the DC energy that is produced into the AC energy that is required to run our facility.
As a natural resource our day to day intake will vary, but with this system, just one hour of sun has the potential to provide more energy that our facility would consume in one hour. It is estimated that our solar panels could have the potential to produce approximately 70-80% of our yearly energy use.
Installing these panels will not only benefit the environment but will benefit Millwork One's future as well. The longevity of the system was a big part of the reason. Millwork One chose this particular product over others. As we celebrate our twenty fifth anniversary next year, it is certainly nice to know what we are doing whatever we can to prepare for the next twenty five years and benefit the environment while we do so.