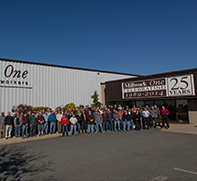 Millwork One, producers of high quality architectural millwork and casework, will be celebrating their 25th birthday in 2014!
While our first location at Pettaconsett Avenue was much smaller than the facility we are housed in today, it was where the foundation was set for the core set of values which we still employ to this day. We are a firm that is committed to producing quality architectural millwork while maintaining a reputation that is well respected within the industry. We also want all of our employees, customers and vendors to feel a sense of pride as a part of our team and we feel that we have met those expectations as we have grown over the years.
2014 will bring many exciting things for our company. Our newly redesigned website will showcase many of the projects which we have completed over the years, give readers a little more information about our history and will take a photographic look at the state of the art facility that is used to help produce our products. We have also recently completed the installation of a solar roof farm, which will not only help preserve our environment but will help to secure our future as we look ahead to the next 25 years.
We want to take a moment to thank each and every one of you who have been a part of our history – we would not be where we are today without you!