Turner awards "Subcontractor of the Year" to Millwork One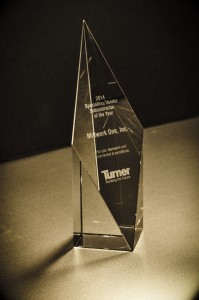 Millwork One Inc. is honored to receive  the Turner Construction 2014 Specialties Vendor Subcontractor of the Year Award. We are honored by this prestigious achievement due to our performance on The Clark Museum project in Williamstown, MA.
The project was designed by Pritzker Prize winning architect Tadao Ando, who teamed up with world class architecture firm Gensler, to design the new building for The Clark Museum which went on to win many awards, including the coveted 2014 Apollo Award for Museum Opening of the Year. The project was also featured in Architectural Record Magazine, The New York Times, Los Angeles Times, Financial Times, Boston Globe and the Wall Street Journal's Top Architectural Spaces of the Year article.
At the presentation of the award, Millwork One Inc. was cited not only for the quality of their work and commitment to the difficult schedule, but for the willingness to go above and beyond with Turner's project team. The team provided the client and its designer with an unrivaled, award winning space that is truly something for everyone involved to be proud of.