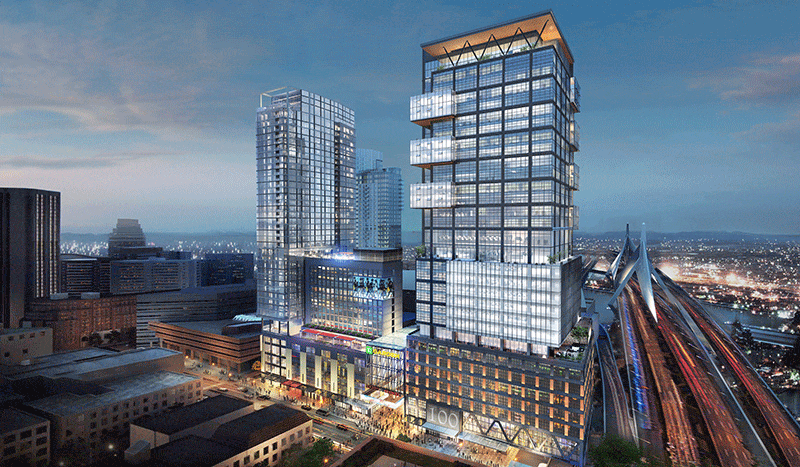 CURBED Boston called it "The ginormous project next to the TD Garden".
Delaware North, a global leader in hospitality and the owner and operator of TD Garden, along with partner Boston Properties, has a massive expansion of the 23-year-old arena taking place over the next two years. The original site of the Boston Garden is now home to The Hub on Causeway, serving as the new front door to TD Garden and providing a historic opportunity for the arena expansion and re-imagination of spaces and amenities.
John Moriarty and Associates was selected to provide construction management services for most of the multi package expansion which includes a Hotel tower, Residential tower and Office component. Solomon Cordwell Buenz was hired as the design firm for the residential tower and Millwork One Inc. was selected to provide the architectural woodwork in the amenities spaces. Millwork One Inc. was also selected to provide the woodwork designed by IA Interior Architects for the first tenant in the office tower, Rapid 7, a cyber-security firm occupying four floors.
Both woodwork packages are laced with fine architectural woodwork but are unique in their material selections. Stainless etched panels, reclaimed rustic walnut and oak cover the Custom Concierge desk and walls in the residential amenities, while Natural Ash paneling will cover Rapid 7's walls. Sophisticated Barista & Genius bars along with a Reception desk within Rapid 7 incorporate Ash, 3-Form acrylic panels and quartz cladding. Millwork One is proud to be involved in such prestigious projects and to be recognized as a leader in architectural woodwork throughout New England.
Both projects are to be completed in the 3rd quarter of 2019